GET INVISALIGN TREATMENT TODAY
Invisalign Aligners: A Versatile Solution
Straight teeth are the dream of every person. To achieve this dream, now there is a wonderful option Invisalign. It is a system that helps you move your teeth into place gradually. With Invisalign, you can eat what you want, brush and floss as usual, and even get your teeth cleaned with no special restrictions. As a result, you'll enjoy the best possible oral health during your treatment.
Benefits of Invisalign Aligners?
Invisalign is a non-invasive orthodontic treatment that uses clear, removable aligners while you are wearing them to straighten your teeth. Invisalign allows you to eat well without having to worry about your braces, and the aligners can be removed at night for normal brushing and flossing. They are removable, so you can take them out whenever you like and get them on whenever you feel like it.
The Invisalign technique uses a series of clear aligners to gradually move teeth into the desired position. When the series is complete, you will have straight teeth that will stay straighter longer with fewer relapses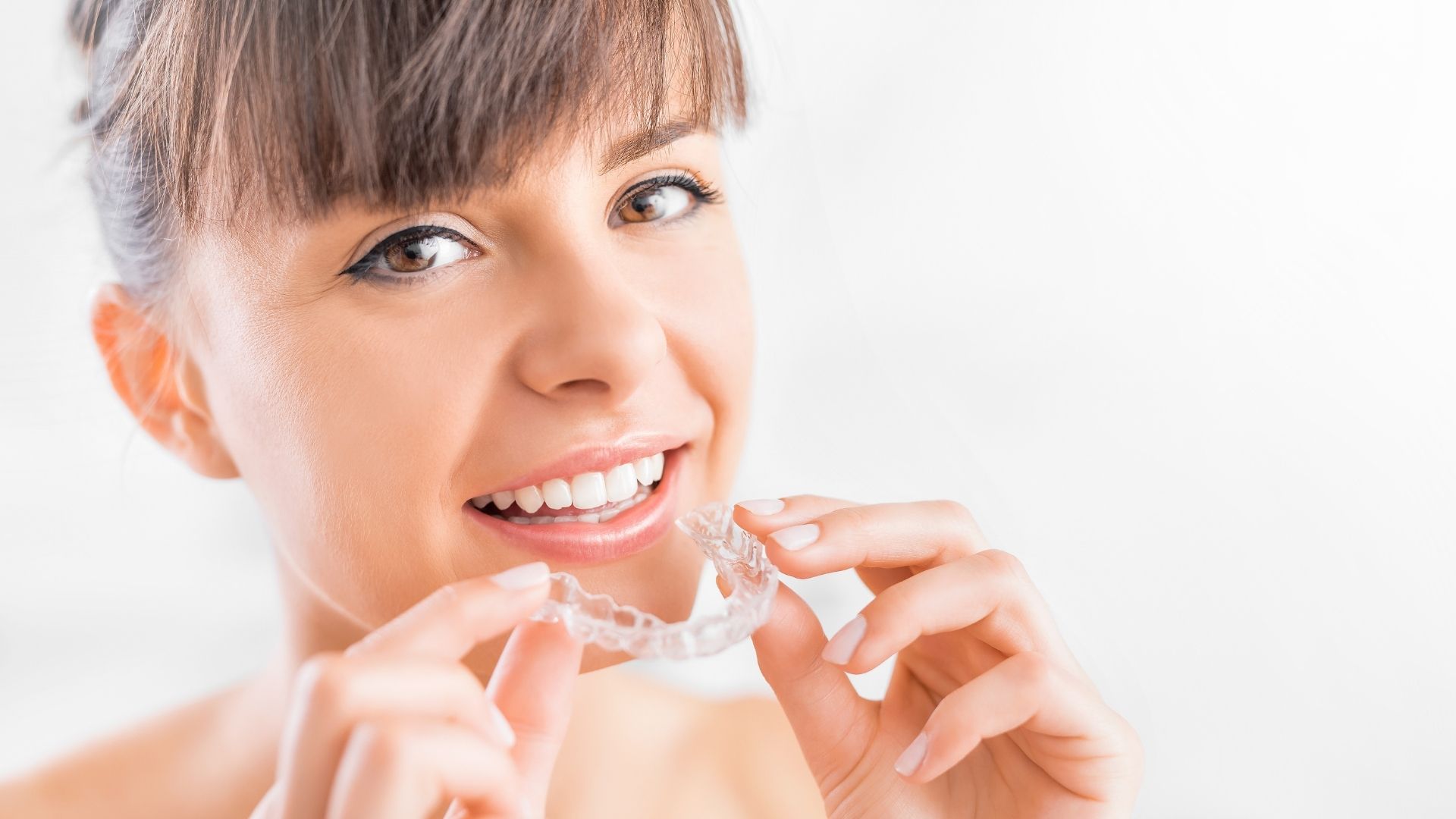 Got Invisible Aligners at Bristles

Been using clear aligners recommended by Dr. Kanish for sometime now. They're really comfortable and nobody actually notices them unless you mention. Fantastic solution to teeth alignment without the use of metal braces! I'd definitely recommend at least a consultation with the Bristles Dental Studios' team if you're bothered by the current alignment of your teeth..
Got Immediate Implants placed at Bristles Dental Studios

Excellent service provided by the team of Bristles Dental Studio…. completely painless, no infection after the procedure and quick recovery. Can't thank them enough and wouldn't have expected a quick turn around from any other dental service. If I could give you guys 11/10 I would have but for now you guys are 10/10. Thank you so so so much. Kindest regards Renu and Hardevinder Mann.
Got regular dental check up and esthetic fillings done are Bristles Dental Studios

Since childhood dentists have always scared me. However, this perception changed when I visited Bristles. Dr. Palak is the sweetest dentist I've come across. She makes the patient feel comfortable, undertakes the process slowly and smoothly by constantly informing the patient about the procedures. What to expect at Bristles:- 1. Amazing hygiene. 2. Competent staff. 3. Smooth procedures. 4. Genuine prices. 5. Lots of treatment options. What NOT to expect at Bristles:- 1. Overpriced services. 2. Misguidance 3. Rushed treatment. This place is HIGHLY RECOMMENDED.
Wisdom Tooth Removal

I visited this place for removal of my tooth and was really happy with the experience here. Doctors ensure comfort of the patient while providing the best treatment. Would recommend people to visit here for any dental related issues.
Suffered from botched fracture fixation at a Govt. Facility

Thank you for all. excellent services, great treatment. Dr. palak mam is the best dentist. amazing overall experience. Special thanks to dr palak mam and samar sir thnku so much I so happy
Got Implants at Bristles Dental Studios

I had an online appointment with Dr. Palak Banta. I was impressed with the online consultation and her polite way of explanation. After this I visited the clinic & I got my dental Implant from Bristles Dental Studio, it was a painless procedure dealt with utter care and I am totally satisfied with the treatment. Moreover, I will recommend Bristles Dental Studio for everyone reading my review for any kind of dental work.
BEST IMPLANT CLINIC IN TRI-CITY.
Got Dentures made at Bristles dental Studios for her elderly grandmother

My grandmother got a new denture from Dr. Samar and the experience was pretty awesome! Thank you Doctor. You were amazing!! Will definitely go in the future for any of my dental problems. I Highly recommend Bristles dental studios.
Visited the clinic for a full mouth rehabilitation

Visited bristles dental studios during my one month trip to Chandigarh. The doctors and the staff were very co-operative and helpful. I had to get multiple crowns , bridges and an implant done and the doctors were nice enough to complete all my treatment in one month. Highly satisfied with quality of work and mannerism of the team .Going back to my Hometown happy and with a full set of new teeth. Would recommend Bristles to everyone. Thanks!
Visited the clinic in pain for a Root canal treatment

I went with a deep broken tooth and I was recommended root canal by Dr. Palak at Bristles Dental Studio. I have seen a friend in the past cry in pain after root canal and which is why I was really afraid to get it done. Dr. Palak understood my fears and made sure I was comfortable during the root canal process by using her specialised pain prevention processes. I didn't have to bear a lot of pain and my root canal was done smoothly. I'm happy with my experience here.
Got esthetic ceramic fillings done at Bristles dental Studios

Excellent way of handling! Highly recommend Dr Palak. Super polite and lets you feel comfortable. I got my on-lay done, and they did a fantastic job of the whole process.
Got treatment for his 4year old Son

My 4 years old son suffered from tooth cavities but when he got treatment from Dr. Palak he is ok now. Dr. Palak is a wonderful dentist in her profession. she is very polite and humble. i have never ever seen such a splendid Dr who makes treatment very easy and comfortable with reasonable charges.
Visited for a root canal treatment

COOLEST DENTIST EVERRRRRRRR 10/10 🙂
DOWNLOAD FREE MONTHLY INVISALIGN GUIDE BY BRISTLES DENTAL STUDIOS CHANDIGARH
SUBMIT YOUR DETAILS & GET MONTHLY UPDATES ON DENTAL HEALTH
By clicking on "Download & Subscribe" you agree to be contacted by Bristles Dental Studios over Phone/WhatsApp/Email
Get A Perfect Smile with Invisalign in Chandigarh
Invisalign Treatment Chandigarh
Invisalign Treatment Chandigarh can give you the smile you've always wanted without the time and cost of traditional braces, thanks to Invisalign clear aligners, which are clear and removable custom-made aligners that reposition your teeth over time. You can now have the teeth you've always wanted with Invisalign Chandigarh! 
The information below provides you with the basics of Invisalign Treatment Chandigarh, India so that you know what to expect from your treatment with us at our Invisalign Chandigarh clinic, should you wish to learn more about getting your teeth straightened using Invisalign clear aligners.
What is Invisalign?
Invisalign is a series of clear, removable aligners, worn over your teeth, that gradually shift and realign your teeth to a desired final position. It does offer a number of advantages over traditional braces: patients can eat what they want while wearing aligners; there are no metal wires or brackets; and since results occur gradually over time, friends and family may not even realize that you're undergoing orthodontic treatment. Designed by dentists, Invisalign is made to fit your teeth exactly—and it's affordable too! 
Why Choose Invisalign Treatment Chandigarh?
There are a number of orthodontic treatments available to straighten your teeth. If you're looking for an alternative to traditional braces, you might want to consider Invisalign Treatment Chandigarh. 
It's helpful in correcting bad bites and improving dental health that doesn't require using metal brackets or wires to keep your teeth in place. The aligners from Invisalign can be removed when eating or brushing, so you won't have to eat or brush with them in place. You will wear each aligner as long as it takes for your teeth to move into their new positions, which generally lasts about two weeks per set of aligners. Once complete you'll be left with straight, healthy teeth that can last a lifetime without needing braces again. Overall, more than 80 percent of people who use Invisalign achieve their final smiles using these Invisalign clear aligners. 
How does it work?
Before you can decide if Invisalign is right for you, you need to understand how it works. The first step in your Invisalign treatment is to make an appointment for a consultation with one of our orthodontists. During your initial visit, you will be examined by one of our experts who will evaluate and analyze your condition to determine whether you are a good candidate for orthodontic treatment using Invisalign clear aligners. 
Your dentist will map out a custom treatment plan specifically for your teeth. Then, they'll send that plan to the production team who'll fit you with discreet clear aligners that are tailored to fit over your teeth. You'll wear these aligners for about two weeks before getting new ones that move your teeth a little bit closer toward their goal position. 
Over time, you'll get used to wearing and removing them as well as changing them out as new ones come in. Eventually, after around two years of treatment with Invisalign technology your smile should be perfectly straightened! Our goal is to make sure that each patient sees progress at a pace they are comfortable with and in many cases, treatment can be finished faster than expected.
How much does Invisalign cost?
The cost of Invisalign treatment varies depending on how long it takes to treat your teeth. On average, the cost of Invisalign treatment could range from Rs.150,000-Rs.350,000. If you need further treatment (typically another set of aligners), plan to spend additional money. Invisalign costs are indicative and for patient education only. Invisalign is a customized treatment plan, so individual costs will vary. Final discretion with respect to the treatment costs and duration depends on the complexity of your case, and other factors.
For more information about the cost of Invisalign please visit https://www.invisalign.in/
Invisalign Treatment Chandigarh
A global leader in invisible braces technology, Invisalign Chandigarh offers the most advanced treatment option for patients with correcting and straightening their teeth using unique orthodontic aligners.
Clear, aesthetic, natural-looking teeth can be yours for a fraction of what you might think—without any bulky dental devices in your mouth! If you want an immediate solution that lasts longer than traditional metal braces, then definitely invest in Invisalign Treatment Chandigarh. It's not so expensive but well worth it if you want straighter teeth for life!